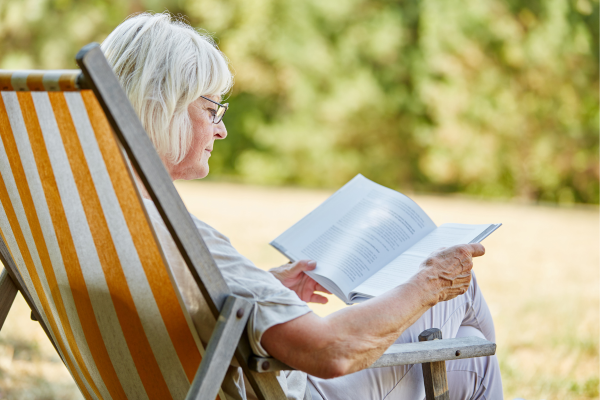 If you plan on moving to a new state in retirement, you're certainly not alone. Plenty of retirees seek a change of pace and scenery in retirement, and the Sun Belt is a popular destination for good reason. Down in the South, we have no shortage of sunshine, warm weather, water, world-famous food, and great Southern hospitality.
And while we know there are plenty of benefits to heading down south in retirement, there are a few unique concerns and challenges to remember. From access to quality healthcare to navigating new state tax laws, here's a look at what retirees need to know about migrating south in retirement.
Concern #1: Affordable Retirement Living
If you're concerned about finding affordable living in retirement, the South boasts some of the country's lowest cost of living. The five most affordable states to live in include Mississippi, Kansas, Alabama, Oklahoma, and Georgia — and they all have plenty of great things to offer retirees in terms of community, landscape, entertainment, food scenes, and more.1 If you plan on relocating from a more expensive state, say, New York, California, or Massachusetts, chances are your savings will go much farther here.
Housing costs aside, it's essential to consider other costs that impact your monthly budget, like taxes, groceries, transportation, utilities, and healthcare. You'll need to rebuild your budget based on your desired location's average costs, which may differ from what you're used to paying.
Concern #2: Healthcare Access and Quality
As you age, you'll likely need ongoing medical attention at some point in your life, including specialized services or long-term care. So, as you plan your retirement destination, research how accessible reputable medical providers, hospitals, emergency rooms, and specialists are to your desired location.
The more remote of an area you move to, the farther away you'll be from specialized providers (though most rural areas nowadays are still reasonably close to a hospital or doctor's office). If you know you'll be making routine visits to specific providers, you may want to consider moving within easy driving (or public transport) distance of those offices.
It's worth noting that the South is home to some of the country's most esteemed hospital networks, including Duke University Hospital, UNC Hospital, MUSC Health-University Medical Center, Ochsner Medical Center, and more.
If you're 65 or older, you might already be enrolled in Medicare. With the help of your financial advisor, it may be a good idea to review your supplemental insurance options before moving. Find plans that have established relationships with the local healthcare providers within your desired retirement destination.
If you're not yet eligible for Medicare and you're covered by a plan on the marketplace, moving to a new zip code can qualify you for a particular enrollment period. Use this opportunity to find a plan that allows you to visit in-network providers in your new area.
Concern #3: Climate and Weather Considerations
If you like it warm, the South is the place for you. Louisiana is the third hottest state in the country, followed closely by South Carolina and Georgia.2 But just as northerners have adapted to hunkering in the middle of winter, southerners tend to do the same in the summer. But come the rest of the year? You'll find people in the South enjoying the milder temperatures and warm sunny skies while the rest of the country is shoveling snow and cranking up the heat.
With ongoing climate change concerns, remember that the South is especially susceptible to natural disasters like hurricanes, heat waves, floods, and even the occasional tornado. But by making yourself aware of these concerns, it's possible to enjoy everything the South offers while preparing for the unexpected — obtaining flood insurance, investing in a generator, purchasing a newer home with added safety features, etc.
Concern #4: Social Engagement and Community
Social isolation and loneliness don't just impact retirees' mental health; they can take a toll on their physical health as well. Recent studies have found that retirees who feel isolated or lonely are at risk of high blood pressure, heart disease, Alzheimer's, depression, and more.3
You've worked so incredibly hard to achieve financial independence; it's essential to protect your well-being in retirement so you can enjoy it to the fullest.
Southern hospitality is genuine, and you'll find many tight-knit communities with active social scenes in the South. Whether you want to live in a small town or a big city, there is no shortage of opportunities to meet new people and try new things.
Think about what makes you feel happy and fulfilled. Have you always been a history buff? Try volunteering at a local museum. Love spending time in nature? Check out your local environmental protection clubs or botanical gardens. From volunteer opportunities to fitness clubs, connect with like-minded individuals in your new community, and it'll start to feel like home. Staying active in retirement is critical to combatting isolation or loneliness, and it can help you feel purposeful and fulfilled outside of work.
Concern #5: Safety and Security
Anywhere you move to, whether in the South or across the ocean, you'll want to relocate somewhere you can feel safe and comfortable. Research your desired area to identify which neighborhoods have the lowest crime rate. When looking at homes, consider security features such as an alarm system, fencing, and reinforced doors.
While more rural areas may have lower crime rates, think about how accessible local law enforcement is in the event you do have an emergency. There are trade-offs to living in either a small town or a big city, so consider them carefully.
Concern #6: Access to Recreational and Cultural Activities
The South is home to some of the oldest states in the country. Virginia, North Carolina, South Carolina, and Georgia were all part of the 13 original colonies, which means there is no shortage of rich cultural heritage and historical areas to explore.
If history isn't your thing, just consider the recreational opportunities in the South. From fantastic fishing to boating, sailing, barbequing, hiking, four-wheeling, and more, there's plenty to do in the South — thanks to its diverse and beautiful terrain.
If you're close to major cities like Charleston, New Orleans, or Atlanta, you can access vibrant art, music, and food scenes. They're some of the best in the country. Even if you live outside of the city, entertainment and culture are just a short car ride away.
Concern #7: Estate Planning and Financial Security
Just because you're relocating in retirement doesn't mean you should stop thinking about your legacy and estate planning goals. Once you land on your desired location, start building your team of professionals (financial advisor, accountant, and estate attorney) to help you plan for effectively transitioning assets to your loved ones.
Local professionals can help you navigate state and local tax laws since some states implement inheritance and estate taxes. Your team of estate planning professionals can help you accomplish essential tasks like creating a will, establishing trusts, selecting an executor, and more.
Concern #8: Navigating Taxation
Did you know that some states offer retirees additional tax benefits and deductions? The South has several especially tax-friendly states for retirees, including Georgia, Mississippi, Alabama, and South Carolina.
In Georgia, for example, retirees benefit from:4
No state tax on Social Security income
$65,000 deduction per person on all types of retirement income
Moderate sales tax (4%) and property tax (on average $800 less than the national average)5
No inheritance or estate tax
Your financial advisor can help you manage your tax obligations in a new state as you navigate your retirement income strategy.
Conclusion
While Southern states offer desirable retirement options, it's essential to identify what particular factors will help you experience a fulfilling retirement experience as you think about where you want to relocate to, research, and talk to local experts to address any concerns you may have.
We want you to make the most of your retirement, and the South is a great place to do it. If you have questions about finding your dream retirement destination, don't hesitate to reach out to us anytime.
Sources:
110 Cheapest States To Live In For 2023
2These 10 States Averaged the Highest Temperatures in July 2023
3Social isolation, loneliness in older people pose health risks
4Georgia Retirement Tax Friendliness5Overview of Georgia Taxes
About Us
Partners in Financial Planning provides tax-focused, comprehensive, fee-only financial planning and investment management services. With locations in Salem, Virginia and Charleston, South Carolina, our team is well-equipped to serve clients both locally and nationally with over 100 years of combined experience and knowledge in financial services.
To learn more, visit https://partnersinfinancialplanning.com