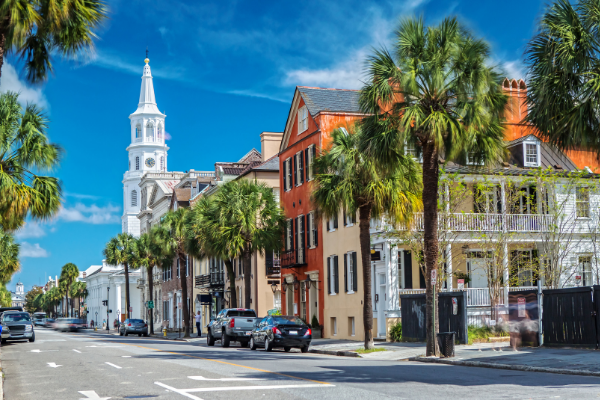 Charleston is rich in history, food, nature, and more. If you're considering relocating to Charleston in retirement, it's an incredible place to live out your golden years.
But if you're an out-of-towner, there are some things to know about South Carolina and Charleston before relocating for good.
Below we've rounded up five top must-knows for those looking to relocate to Charleston, South Carolina in retirement.
1. South Carolina Boasts Several Tax and Cost Benefits
Charleston is, of course, situated in the stunning state of South Carolina. Known for its natural beauty and southern hospitality, SC has something else that may be especially attractive for retirees—tax benefits.
We consider it one of the most tax-friendly states a retiree can move to. A few cost-savings considerations for retirees include retirement benefits tax savings, no estate tax, a low cost of living, and tax deductions.
Retirement Benefits
Residents of South Carolina are not responsible for paying state taxes on retirement benefits like pensions or Social Security.
The states that do tax these retirement benefits include:
Colorado
Connecticut
Kansas
Minnesota
Missouri
Montana
Nebraska
New Mexico
Rhode Island
Utah
Vermont
West Virginia
Estate Taxes
Similarly, South Carolina does not impose an estate or inheritance tax on its residents. This caveat is especially important for retirees, as leaving a tax-focused legacy plan for your loved ones is a priority.
As a reminder, your estate may still be subject to a federal estate tax. For the 2022 tax year, the federal estate tax applies to assets above $12.06 million, though assets inherited by a spouse are generally tax-exempt. If you have a property in other states, such as a second home, that property may be subject to inheritance and estate taxes imposed by that state.
Consider talking with an estate attorney or other estate planning professional if this is a concern.
Cost of Living
For all it has to offer, the cost of living in South Carolina has remained very reasonable. A recent survey found that the cost of living in SC is actually about six percent less than the national average.1
That means you're likely going to spend less on groceries, entertainment, eating out, and housing costs in retirement if you're relocating to this state. That is excellent news for your cash flow in retirement, and it may even allow for other expenses, like more travel or a second home.
If you're considering relocating to Charleston from a state with a high cost of living, like New York or California, this may require an overhaul of your retirement income strategy.
Estimating your retirement income needs with the assumption you'd spend retirement in metropolitan New York will look vastly different than what you'd need to enjoy retirement in a state like South Carolina. Be sure to work with your financial advisor or retirement planning specialist to address these adjustments sooner rather than later.
Retiree Tax Deduction
For those 65 and older, South Carolina offers a $15,000 income tax deduction on its state taxes. Since taxes can significantly impact your retirement income, this is a substantial benefit to keep in mind.
2. You're a Stone's Throw Away From Excellent Medical Care
Studies show time and time again that medical expenses rise once you retire.
A healthy 65-year-old couple is estimated to spend around $12,286 in healthcare costs per year in retirement.2 Because of this, securing comprehensive preventative and ongoing medical care is critical when relocating in retirement.
Luckily, Charleston is home to several top-ranked medical institutions, including:
Medical University of South Carolina (MUSC)
Roper St. Francis Healthcare
East Cooper Medical Center
Ralph H Johnson Veterans Affairs Medical Center
Trident Health System
If you require or anticipate needing medical attention from specialists, be sure to research availability beforehand. It's important to know you'll have all hands on deck wherever you move to in retirement.
Living in Charleston will likely give you ample access to specialists. If you're looking to get off the grid and live further outside the city, your options may be more limited. Depending on how often you need to meet with a specialist, this may or may not be essential in your decision to relocate.
In addition, Medicare users should check network eligibility in the Charleston area. You may need to make adjustments to your plan come open enrollment to ensure you're well-covered when it's time to move.
3. Continuing Education Is Readily Accessible
If you love to learn, South Carolina is the state for you. Residents 60 years and older can actually attend any state-funded college for free.
We find that most people enjoy learning something new in retirement, especially if they've been working in the same field for the last 20, 30, 40+ years. With more time on your hands than ever before, take advantage of tuition-free learning by signing up for a course or two.
In-person classes give retirees an added advantage of meeting new people with similar interests. Loneliness and isolation are the top threats to a happy and fulfilling retirement, but rebuilding a network in your new city can help combat that state.
4. Your Compass Will Always Point To a Beach
Charleston enjoys some of the most fantastic weather along the East Coast, so it's no wonder people all over the country choose to retire here.
It has a beautiful, subtropical climate that provides a nice "in-between" for northers looking to escape the snow without enduring the brutal heat of the Florida sun.
Remember, Charleston is a waterfront town, meaning you'll never be far from a beach.
5. Charleston Is Rich With History, Food, and Entertainment
As we mentioned before, Charleston is rich in many areas of interest—history, architecture, food, nightlife, and entertainment. Whatever interests you in retirement, build a routine around it.
Volunteer or consider part-time work at a local museum, or take cooking classes from a world-class chef.
Take time to explore all facets of your new city, from trendy restaurants to beaches, museums, walking tours, and more. From there, try to create a daily routine—or at least start to imagine what your daily routine could look like.
What activities could you engage with regularly?
How will you meet new people and create a network of support?
Where will you find meaning and purpose?
Creating a new network is especially important for transplants who may not have any friends or family in the area already.
Bonus 6. We'll Be Right There With You!
Guess what? The Partners in Financial Planning are relocating right along with you! We've recently opened a new Charleston office, which means we're excited to explore our new city, too.
Whether you've been a long-term client or looking to start your journey with a new financial partner, we're excited to work alongside you from this new location.
Our mission is to help those nearing or in retirement by offering unbiased, objective advice designed to address short-term needs and long-term concerns. If you're considering relocating or just need advice regarding your retirement, we're happy to help.
Feel free to schedule a time to talk with our team anytime.
Sources:
1 Cost of Living in South Carolina
About Us
Partners in Financial Planning provides tax-focused, comprehensive, fee-only financial planning and investment management services. With locations in Salem, Virginia and Charleston, South Carolina, our team is well-equipped to serve clients both locally and nationally with over 100 years of combined experience and knowledge in financial services.
To learn more, visit https://partnersinfinancialplanning.com