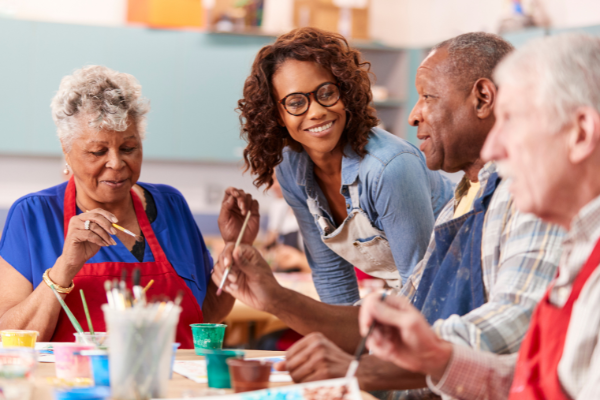 There may come a time when a parent, in-law, close relative, or other loved one no longer wants to live in their own home. Or, as their health declines, it becomes unsafe for them to continue living independently, making a retirement community an excellent option.
Whether for personal reasons, medical concerns, or a combination, it's essential to plan for what this next step looks like. 
Charleston is home to several reputable and welcoming retirement communities, offering everything from totally independent living to 24/7 care. As you help your loved one find a new home that meets their needs, keep these considerations in mind.
Determine Their Long-Term Needs
Before beginning your search for the perfect retirement community, start by determining exactly what you're looking for. Nowadays, retirement communities come in all shapes, sizes, colors, and textures.
Are your parents just looking for a 55+ community with home maintenance and a good social scene? Many independent living communities offer stand-alone condos or houses with amenities like chef-prepared meals, dining halls, laundry service, lawn maintenance, and more.
Or, do you anticipate your loved ones needing additional care or oversight? If that's the case, a facility with secure apartments and medical assistance is a better fit.
Regardless of your loved one's present needs, it's helpful to consider the care they may require in the coming years. Moving is a hassle and only gets more challenging as your loved one's health declines.
If your parent is healthy and independent now, should you still look for facilities with additional care options? Depending on the circumstances, it's sometimes beneficial to have access to care before they need it.
Understand The Costs of A Retirement Community (All of Them)
A couple can expect to spend around $285,000 in medical expenses throughout their retirement. That estimate is for healthcare alone, meaning it doesn't include the accrued costs while residing in an assisted living facility.
Charleston's retirement communities are fully stocked with a ton of amenities. Unfortunately, those amenities don't come cheap. While it varies by location and services, the average monthly cost of living in an assisted living facility is $3,945 per person, or $47,340 a year.
Of course, that number isn't indicative of what's actually included and, more importantly, what isn't.
Every facility has its own add-on fees for things like:
Dining
Laundry, cleaning, and other home maintenance
Entertainment and excursions
Beauty salons and personal care
Medical care
Parking
Transportation
Pets
The more things that aren't included, the higher the fees will rack up. When selecting the right retirement community for your loved one, review these additional costs carefully.
Know Your Financial Involvement
There are many challenges, both financially and emotionally, that come along with caring for an aging parent. Family caregivers sacrifice so much and often without recognition. But spending all your money caring for a loved one puts your financial future at serious risk. Take some time upfront to determine what degree of financial involvement you'll have in their transition to a retirement community.
If you can, sit down for an honest and transparent conversation with your loved one. This talk aims to find out what preparations they've made to manage the costs and how much will likely fall on you.
Will the sale of their home cover most of the costs, or are there other accounts they can pull from? Talking about money is taboo for most older folks, so this conversation will likely be difficult to have. Stay calm, avoid judgment, and help them understand why this information is so important to know.
Covering the Costs of Long-Term Care
Depending on the type of community your loved one chooses and the level of care they need, they may be able to use a long-term care policy (LTC) to cover the cost.
As we mentioned earlier, many retirees use the sale of a home to help cover the costs needed to move into a retirement community. If there's concern that they'll eventually need long-term care, putting the profits from a home sale into an investment account could help cover the costs later down the line.
They can also pay for some care using a health savings account (HSA). Families with HSAs can contribute up to $7,300 in 2022, with an additional $1,000 catch-up contribution limit for those 55 and over.
If your loved one is eligible to contribute to an HSA, or if they've grown sizeable savings during their working years, this tax-advantaged account can be integral in covering costly medical expenses like professional care.
Check with their HSA account manager to determine what type of care is eligible—typically, HSA-eligible care must be offered by a licensed professional.
Examples Of Retirement Communities In The Charleston, SC Area
Just starting your search? Here are a few retirement communities we recommend checking out based on their reputation, offerings, and proximity to the Charleston area.
Assisted Living & Memory Care
Harmony at West Ashley is an upscale living facility that's a short drive from downtown Charleston. They offer a wide array of services and care, with options for independent living, assisted living, and memory care facilities.
Brookdale Senior Living provides assisted living opportunities and memory care living. Their staff is trained to assist with daily living tasks, medication management, and coordination between healthcare providers.
Kempton of Charleston has a variety of services, including assisted living, memory care, skilled nursing, and rehabilitation. Their facility includes on-site studio, one-bedroom, and two-bedroom apartments with upscale furnishings.
Wellmore of Daniel Island is a luxury retirement community with assisted living, memory care, skilled nursing, and short-term rehab services. This picturesque complex overlooks Beresford Creek and offers residents plenty of opportunities to enjoy nature, socialize, and partake in memorable outings.
Savannah Place, located on James Island, is an assisted living facility that also offers short-term stays for those recovering from surgery or illness. This community has one-bedroom and studio apartments for residents and plenty of outdoor space to mingle and relax.
Independent Living
If you're looking for a faith-based facility, Bishop Gadsden Episcopal Retirement Community sits on 100 acres of lush marshlands and welcomes residents of all religious affiliations. This community is geared toward independent seniors and offers no shortage of high-scale culinary experiences, gardening opportunities, social activities, and more.
Before You Decide
If you have time on your side, be thorough in your research. Go with your loved one on a tour of every facility you're considering. Write down a list of questions and concerns, and chat with some current residents if you get the chance.
Many seniors are hesitant to make a significant change, like moving to a retirement community. By gathering the facts and helping them work through their anxieties, you and your loved one can make a decision together that everyone's comfortable and happy with.

Our team at Partners in Financial Planning helps families in the Charleston area build a plan and prepare financially for the transition to assisted living. If this is something you or a loved one are currently going through, please feel free to give us a call.
About Us
Partners in Financial Planning provides tax-focused, comprehensive, fee-only financial planning and investment management services. With locations in Salem, Virginia and Charleston, South Carolina, our team is well-equipped to serve clients both locally and nationally with over 100 years of combined experience and knowledge in financial services.
To learn more, visit https://partnersinfinancialplanning.com