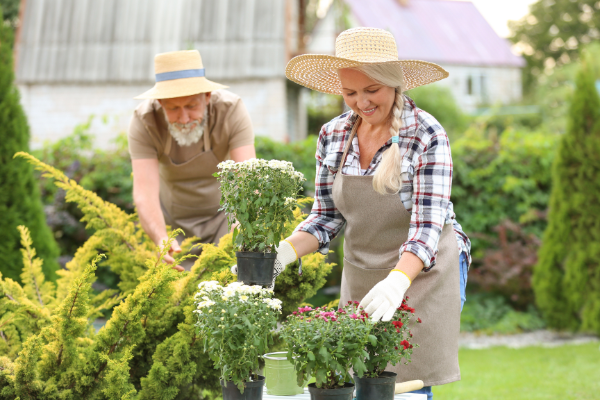 Volunteering is wonderful for so many reasons. It allows you to give back to the community, connect with a cause you're passionate about, and make new friendships.
With all the benefits, it's no wonder retirees make volunteering a significant part of their lives. More than 60% of retirees over the age of 55 are volunteering in some capacity.1
With summer in full swing, now's the perfect time to go outside and get involved. So, where can you volunteer in the greater Charleston area? We've rounded up a few options below.
Why Volunteering Is So Important For Everyone (Especially Retirees)
Of course, you don't need to be retired to enjoy volunteering. But during your working years, finding the time and making an ongoing commitment is challenging. Here are a few reasons why volunteering is a fantastic opportunity for retirees.
Feeling Fulfilled in Retirement
While having a solid financial plan for retirement is essential, it's what you do in retirement that drives satisfaction and happiness.
For decades, you had a strict schedule to follow—a steady job, personal commitments, etc. But once you hang up your hat, you have to build a new routine from the ground up. Volunteering can be an excellent activity to put into your regular schedule.
While volunteering is about giving–your time, talents, and resources–it's also about receiving a sense of personal fulfillment. Helping others, especially for a cause you're passionate about, brings a palpable sense of joy and purpose to your day.
Creating New Social Circles
One of the biggest threats to a person's well-being in retirement is isolation. Leaving your workplace behind means saying goodbye to old friends and colleagues.
But meeting new people is tough, especially when you've spent years working 50, 60, 70+ hour weeks. With hours like these, doctors and other high earners don't necessarily have time to grow a group of friends outside of their professional network.
Getting involved with volunteer opportunities in your community is a positive and intentional way to make new friendships and connections. It brings you together with others who have similar interests and values or may be transitioning to retirement as well.
Getting Active
Physical and mental decline are severe issues in retirement, but you can avoid or lessen their effects by staying active. Getting out of the house, learning new skills, and working with others are great ways to get active—you experience those same things when getting involved with a local organization.
Like living a healthy lifestyle, consistency is critical, and volunteering regularly is an effective way to stay active throughout your retirement.
Volunteer Opportunities in Charleston
So, where can you go to volunteer in retirement? Charleston has so many opportunities, no matter what type of volunteering interests you. Here are some ideas.
Local Parks & Gardens
Parks are almost always teeming with volunteer opportunities, often with various areas and activities.
Charleston County Parks & Recreation Commission
The Charleston Parks & Rec has different volunteer slots available all summer long. From beach cleanup to race volunteers, event set-ups, and more, there are tons of ways to get involved in a way that interests you.
Charleston Parks Conservancy
If you've got a green thumb (or looking to improve your skills), community gardens like the Charleston Parks Conservancy can always use a helping hand.
Their current volunteer opportunities include:
Planting, weeding, pruning, and general garden maintenance
Harvesting fruits and vegetables
Event set-up and tear down
Watering the gardens
Cleaning up the parks
Magnolia Plantation & Gardens
Magnolia Plantation & Gardens is another local organization always looking for volunteers. From helping out in the children's garden to working in the zoo, you'll find plenty of opportunities to get involved in a meaningful way.
MUSC Urban Farm
All community members are invited to come to grow food and flowers at MUSC's Urban Farm. No previous gardening experience is required, and you'll receive hands-on learning about nutrition, urban agricultural practices, and more.
Serve Local Food Banks
More than ever, food banks are vital to displaced families and individuals. Helping keep your community members fed is an impactful and important cause. Here are a few food banks currently accepting volunteers.
Low Country Food Bank
The Low Country Food Bank offers a set schedule of volunteer hours throughout the week, which can be great for retirees looking to build a routine in retirement. They're always looking for volunteers to assist with activities like distribution of food, packing and sorting, or assisting with programs.
Harvest Hope
With a mission to "ensure no table is empty tonight," Harvest Hope has several branches across the Charleston area and receives the help of over 11,000 volunteers a year. You can submit your name and email on their website to be alerted when future volunteer opportunities pop up.
Golden Harvest
Golden Harvest Food Bank is always looking for volunteers to help with cooking, packing, sorting, distributing, and more.
Dive Into History
Charleston is rich in history. As a volunteer, you have the exciting opportunity to steep yourself in the action.
Historic Charleston Foundation
Join the more than 700 people who volunteer annually for the Historic Charleston Foundation. You'll have the chance to help out with:
Student field trips
House museums
Gardens
Educational programs
Middleton Place
The Middleton Place and the Edmondston-Alston House welcome over 150,000 visitors annually and conduct their volunteer training semi-annually. If assisting at this historical venue sounds appealing, they also have some noteworthy volunteer perks: free membership, discounts at their shops and restaurants, educational field trips, and lecture opportunities.
Patriots Point
Patriots Point is Charleston's naval and maritime museum. If you're interested in volunteering, you can fill out and submit their volunteer application right on their website.
Preservation Society of Charleston
The Preservation Society of Charleston is recruiting volunteers for its Fall Tours, one of the society's premiere educational events for the community. As a "thank you" for volunteering, they offer complimentary tickets to Piazza and Garden tours and an appreciation reception.
Children's Museum of the Lowcountry
As a nonprofit, the Children's Museum of the Lowcountry (CML) relies on the help of volunteers to keep things running smoothly. In 2021, nearly 100 volunteers put in 6,432 hours, and they're looking to keep that number rising in 2022.
If you love working with children, there are many opportunities to help out. From cleaning and maintenance to assisting families during open hours, you'll find there's just about something for everyone here.
There Are So Many Ways To Give
Volunteering means different things to different people. Above all, volunteering is about giving your time, talents, resources, connections, etc.
If you'd like to volunteer but aren't sure where to start, we recommend letting your interests guide you. Look into organizations you've followed in the past, or ask friends and family if they have connections to charities in the area.
Try a few different places out, and eventually, you'll find something that sticks. Committing to regular volunteer hours every week or month is an easy way to start building out a schedule in retirement that keeps you fulfilled and active.
Here at Partners in Financial Planning, we encourage all of our clients to make this a meaningful summer and give their time to others.
Do you have a favorite volunteer spot in the Charleston area? We'd love to know more. Feel free to send us a message telling us about your favorite organization.
About Us
Partners in Financial Planning provides tax-focused, comprehensive, fee-only financial planning and investment management services. With locations in Salem, Virginia and Charleston, South Carolina, our team is well-equipped to serve clients both locally and nationally with over 100 years of combined experience and knowledge in financial services.
To learn more, visit https://partnersinfinancialplanning.com