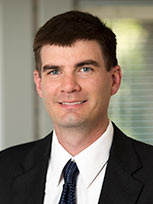 Christopher "Chris" W. Bishop, CFP®
Christopher "Chris" W. Bishop is a graduate of Virginia Tech with a degree in Business Information Technology. During a 17 year career in Information Technology, he worked for companies such as Sprint in Reston, VA and Carilion Clinic in Roanoke, VA. He decided to make a career change to financial planning after leading a number of financial education classes.  Chris is an active member at his church where he continues to foster education in personal finance, participate in community service, and served as the budget committee chairperson.
Chris has appeared on WDBJ7 and been referenced in the publications such as The Roanoke Times and The Renewanation Review discussing various financial topics.  He has been recognized by Roanoke Catholic and Renewanation for his involvement in the Virginia Education Improvement Scholarships Tax Credit Program.
Chris lives in the Glenvar area of Roanoke County with his wife and son.