Do you know how much you are paying in fees to your financial planner?
This is critical information to understand, as higher fees can eat into your savings, and make it more difficult to reach your financial goals.
The way that a financial planner is compensated depends on the type of financial planner that you are working with. There are three main types of planners, and the way they are compensated varies dramatically. A summary of the different types of planners and their fees is included below: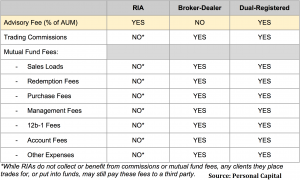 Although it is not always easy to decipher, it is critical to take the time to understand exactly how you are paying your planner, and the total fees involved in the relationship. Even fees that are slightly higher than those of another planner can make a huge difference over time, and can greatly affect your ability to meet your financial goals.
Partners in Financial Planning is a Registered Investment Advisor (RIA) and the only fee we are paid is what is clearly stated in our client contracts.  We do not receive any compensation for the investments we recommend.  You can be sure your best interests are our sole concern – this is the fiduciary standard.
To read more, click on the link below:
https://www.cnbc.com/2017/11/13/what-you-dont-know-about-advisory-fees-is-costing-you.html
Who are We?
Partners in Financial Planning, LLC is a Southwest Virginia-based fee-only financial planning and investment management firm adhering to the fiduciary standard.  We do not sell insurance, annuities or any other investment product.  With over $400 million in assets under management, we serve clients in Roanoke, Virginia, and across the United States.  If you would like to explore if we are a fit for your financial planning needs, contact us at 540-444-2930 or email at info@partnersinfinancialplanning.com.